I've finally cracked my
Urban Decay Sustainable Shadow Box
the other day after months of owning it and keeping it in its pristine packaging. I have this habit sometimes of having my makeup in its original packaging and just looking at it like that. Yes, that defeats the whole purpose of the eyeshadow, but sometimes I just don't want a brush dent on it.
Here's the very first look that I did as I 'bless' my eyeshadow. I used two out of the ten eyeshadows in the palette.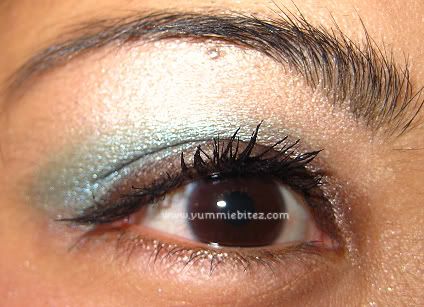 What I Used:
Eyes:
Face
MAKE UP FOR EVER Duo Mat Powder Foundation
MAC True Romantic Beauty Powder Blush
Lips
Kiehl's Lip Balm with SPF 15
Paul & Joe lipgloss
Application:
Prime your lids with Urban Decay Eyeshadow Primer Potion and apply a cream colored base all over the lid (MAC Soft Ochre)
Apply Urban Decay Eyeshadow YDK eyeshadow on your inner half of your eyelid using a shading brush.
Apply Urban Decay Eyeshadow Flipside eyeshadow on your outer V using a shader brush and bring up the color to the crease with a blending brush. Blend any harsh lines.
Apply the highlight color on your browbone (MAC Shroom eyeshadow).
Line your eyes with a brown gel cream liner (Physicians Formula Custom Eye Enhancing Gel Cream Liner in Brown), curl lashes, and apply mascara.
Using a blush brush, sweep a pink blush (MAC True Romantic Beauty Powder) on the apples of your cheeks.
Apply a nude or clear gloss.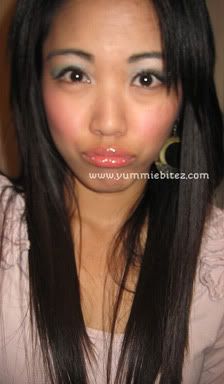 I'll be featuring a look using the palette maybe once a week. I'm doing this experimenting thing where I actually use it multiple times and create multiple looks by using majority of the eye shadows in the palette. The possibilities are endless! We'll see how much I can exhaust out of it.
Don't forget to enter my
contest
if you haven't done so!
FTC: This post contains affiliate links. What this means is when you click the link and shop on the website, I get a commission from your purchase (just like someone who works in retail.) Although not necessary, when you shop through an affiliate link, you help support the site. If you have any questions, please feel free to email me at yummiebitez@gmail.com.