I was checking Twitter around 3 pm yesterday, and Jean from
ExtraPetite
had tweeted about the CVS bi-annual beauty clearance sale. And I've never been so anxious to leave work. I wanted to leave work so badly and just peruse around CVS and see what I can get. Yes, it sounds crazy and all, but I was imagining an empty CVS store once I get out of work. I mean, it is up to 75% off. That's practically getting free make-up! Who would pass up on that?!
Luckily that wasn't the case... well sort of.
I've read in some blogs that some stores actually started January 1... It's already January 5 (as of today that I'm typing this post), so that means I'm already five days late. I was pretty much expecting to pick up only a few things since the things that were on sale are either gone or used up and beat up by someone else. That's one thing I don't like sometimes when I'm shopping for drugstore brands, sometimes people actually test lipsticks on their lips or wherever, and it ruins the product. So I have to inspect every single one of the lipsticks sans packaging just to make sure it's brand new. Anyway, I was still able to snag a few goodies here and there.
I wanted to get this post right away just in case you might be unaware that this is happening right now because I didn't until today (January 5). Don't sleep on it! There's really nothing to think about.
Here's a glimpse of what I bought. Read more to find out how much I saved with this purchase...
Here's the lo'down of my purchase:
L'Oreal H.I.P duo eyeshadow in Sassy
Original Price: $9.29
After discount: $2.25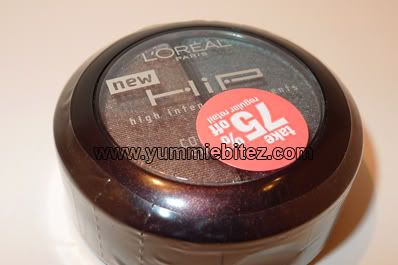 Revlon Perle eyeshadow in Sparkling Gold
Original Price: $5.49
After discount: $1.37
Revlon Super Lusterous Lipstick in Twinkled Pink, Rosedew, and Raspberry Bite
Original Price: $7.99 each
After discount: $1.99 each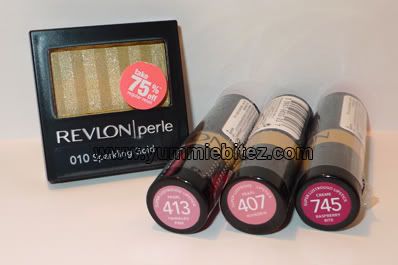 Rimmel Lasting Finish in Bordeux, Drop of Sherry, and Airy Fairy
Original Price: $6.49 each
After discount: $1.62 each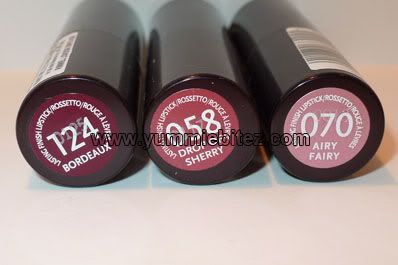 (I'm really happy that Airy Fairy was on sale! I heard good things about this lipstick. So pick it up if you get the chance! I bought one from Target a few days ago (at full price...*gasp*), but that one is going back!)
Rimmel Moisture Renew in Spotlight
Original Price: $8.99
After discount: $2.25
**Rimmel offers a $2 off coupon if you visit their
Facebook page
and "Like It".
Total purchase + Tax = $16.33
Total Savings: $52.51!!!!!!!!!!!!!!!
Visit
NouveoCheap
's blog post about the
CVS Beauty Clearance
as she has the listings of the products that have been seen or bought by other readers that were marked down. Some CVS's have been said not to have any signs or stickers indicating the clearance sale, so this post is your ultimate guide for hunting that bargain (print it out if you have to... I did). And the price scanner is your friend! So before you check-out, make sure to get acquainted with it, as I've also found out that prices may vary from different cities or states.Sometimes items without a sticker can ring up in the system with the 75% off markdown. Tedious, but hey... extra 75% off in your pocket.
And come prepared. Take out those scissors and snip coupons. Also, if you have the CVS card, check if you have and of that CVS Extrabucks by scanning your card on the price scanner. Who knows, you might have free money to spend. So run to your CVS and see what's in store for you!
Happy bargain hunting!
Come back and share what you got on the comments below!