***WARNING: This post contains visuals that may not be appealing to the eyes. None of the pictures where Photoshopped except for the cropping and text. Also, please note that this entry is based entirely on MY experience and opinion, and what has been effective for ME. I'm NOT in any way a skin expert, aesthetian, or dermatologist. I never had extensive knowledge about the skin. Please REMEMBER that different techniques and products have different effects on people. Before you try anything that you might get out of this post, be aware of the ingredients you might be sensitive or allergic to.***

This post will be a two part series: Part one will show you few stages that my skin had gone through for an introduction, and part two will be tips, recommendations, and steps that I did in order to get to how my skin looks like today.
When we were younger, pretty much everyone was all blessed with clear skin. The type of skin we always want: no pimples, blackheads, or whiteheads. Just a nice clear and soft skin.

But then, we hit puberty or just get older, and sometimes things just don't work out like we want to. We notice a pimple here and there. What about the blackheads on your nose that never seem to go away? But some of us just have it really bad. Bad to a point that your acne takes a toll on your self-esteem. It might seem to be in a shallow end, but acne does change how your visually and mentally perceive of yourself. I know because I've been through it and experienced it

Here are some pictures of what my face has been through in the span of 3 years.
Trust me. I'm really embarrassed to even show half of the following pictures.

Click on the images to enlarge:

This picture was around the end of my freshman year of college. I never really needed any foundation or concealer to cover up any pimples or scars. Never wore any makeup except for eyeliner. My face was really that clear, and it's not Photoshopped (Aww, look at the symbol of my rebelliousness. I was so bad ass with my nose ring heehee).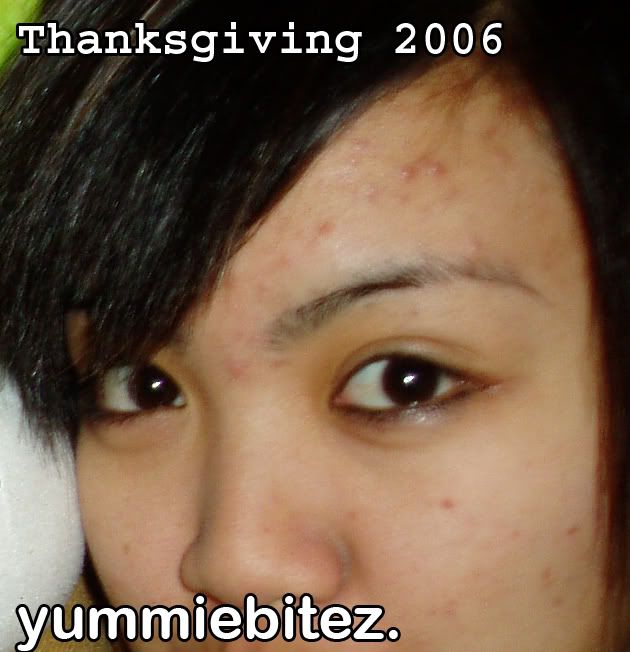 Now fastforward to a year later. After using Bare Escentuals (I swear that's the work of the devil!), My face insanely brokeout! At this point I've met with my dermatologist twice already. I was prescribed Tazorac, had a facial, and steriod injection to help minimize the size of a huge, stubborn pimple on my left cheek (which was really composed of four small ones. I know gross). I swear that pimple never went away for the longest time. Anyway, in high school my usual breakout area was my forehead, but after using Bare Escentuals I started getting them on my cheeks. Big, red, ugly pimples. You can't even really see all of them. There's more of them somewhere but the picture is a bit blurry and my angle hides most of them, I've also tried Proactiv for the first time.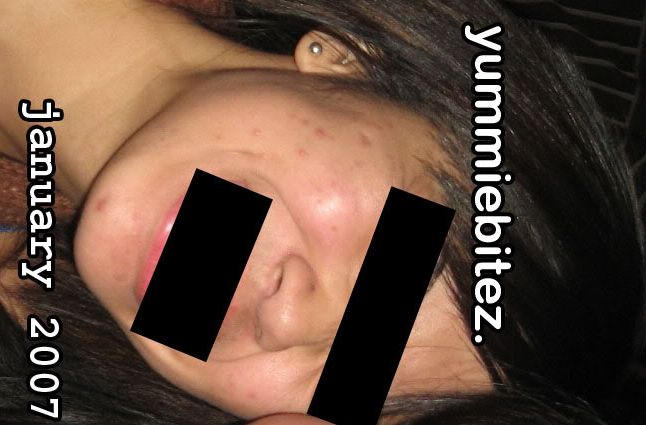 Sorry, I had to block out eyes and my mouth because I really had a silly expression. Anyway, my skin was not getting any better. I actually had foundation in this picture. It didn't really do much covering since you can still see the pimples. At this point, I've tried out Proactive AGAIN, Neutrogena, Clean&Clear, Clinique 3-step Acne Solution, Shiseido Pureness, and some other things I can no longer remember. Not to mention I've always made it a habit to to put foundation and concealer on to cover my acne.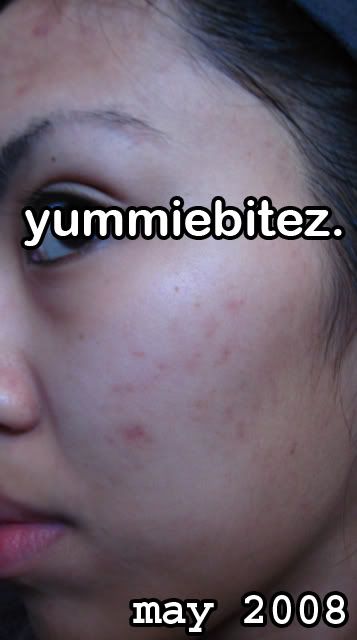 Very minimal breakouts. But my previous acne problem left horrible scarring on my cheeks. My skin has actually improved. The Lyna Pearl Cream has faded most of the scars and prevented the cystic acne. The Queen Helene Mint Julep Masque minimized the breakouts. I was actually able to go out bare face most of the time.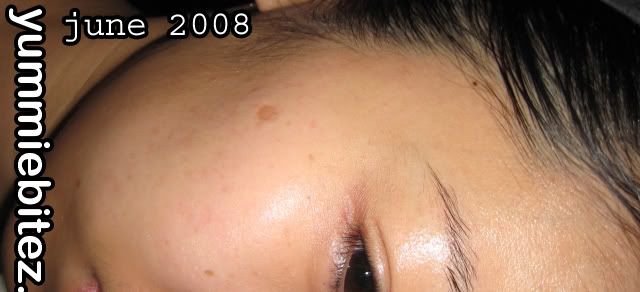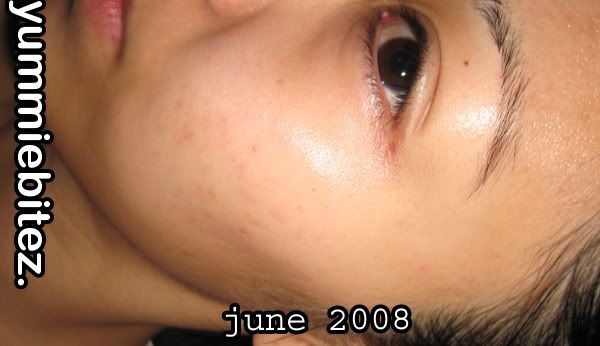 And, my bare face as of today (the scar on the left picture was from my chicken pox days). Scarring almost gone, and been breakout free for about a month now. I haven't really used foundation. Seriously.

So, how was the last picture even possible? Stay tuned for Part two!