If you follow me on Twitter, you might have read some of my tweets regarding the Beautylish event that I attended this past Saturday at the J.W. Marriot in Downtown LA. I must say that I'm really glad that I went! If you missed my previous post, you can find my outfit of the day post
here
.
I was really impressed in the venue of the event. I've passed by the J.W. Marriott whenever we'd go to Staples Center or LA Live but never inside the hotel. It was so posh inside. A few escalators later, we reached the sign in table where we checked in and was greeted by the Beautylish team and we proceeded inside the hall.
Right when you walk in, they had photographers ready to take your picture, and pretty much just makeup everywhere. They had set up tables with little jars of makeup goodies that you can take with you. They had some NYX cosmetics and Orly nail polishes just to name a few. And let's not forget about the food! They had some yummy hors d'oeuvres and even a cupcake tree! Too bad I only managed to get try a cupcake since I was so caught up talking to people. Oh, and did I mention there was also an open bar? I loaded up on... water and soda haha since half of the champagne I had in the beginning gave me a kick already.
I also thought that it was neat that they had a manicure station setup where you can get your nails
'did'
as well as a makeup station. So since we got there pretty early, we were able to get our nails done without having to wait too long. And if that wasn't enough, Beautylish gave us a makeup swag bag with all sorts of goodies inside!
Ok enough rambling, here are some pictures from the event.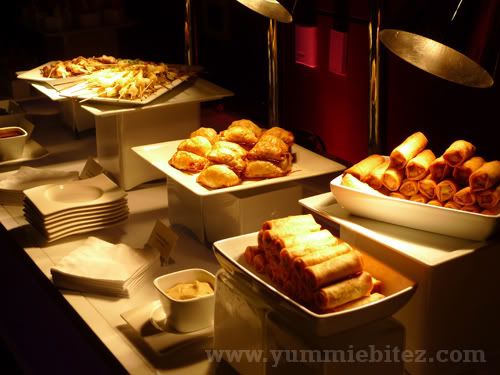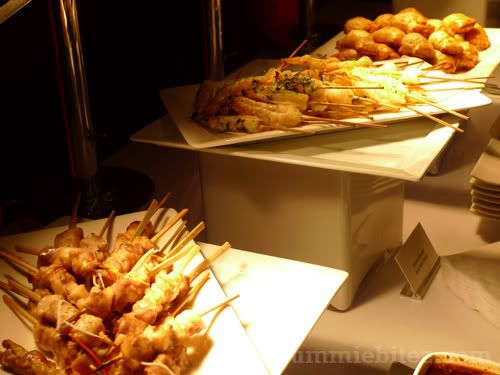 I don't mind having this as my tree for Christmas.
It really tastes as good as it looks. Such a tiny tease of goodness!
Manicure station.
Getting my nails done.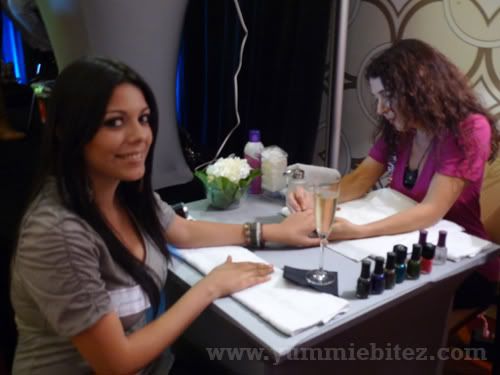 I met Sonia aka SCCastaneda on YouTube while waiting for my turn.



Beautylish team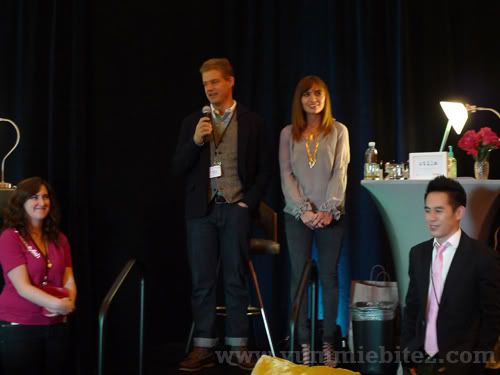 Katie and Tina. They're too adorable for words. We got acquainted while waiting in line for the manis :)



Jarmaine aka JLovesMac1 and Heart. I can't believe they thought I was only 16 -___-* LOL. It was nice chatting up with these girls. Check out Jarmaine's YouTube channel! She's such a character. And Heart, you need to get on YouTube or start a blog already (peer pressure, peer pressure). And random fact, Heart and I actually have a mutual friend. I did not know til we added each other on Facebook. Small world!



With Jarmaine and Nil, co-founder of Beautylish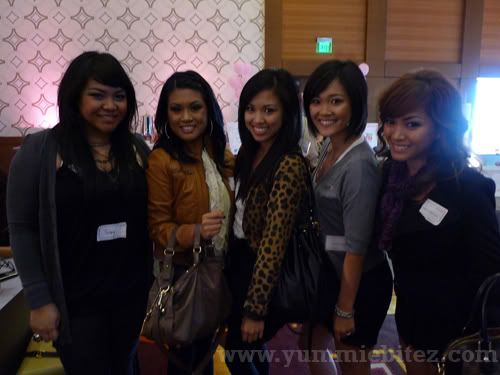 I just realized this when I was going through my pictures, but is this a Filipino group shot or what? Jill should be in this picture too!
(L to R: Suzy (MacNC40), Jarmaine (JLovesMac1), me (yummiebitez), Jackie (JaaackJack), and Heart)



With Jackie, Ingrid (aka missglamorazzi), and my friend Veronica. I met these two towards the end of the event. Ahh!!! they are too cute for words. Jackie was so shy in the beginning, but she was such a sweetheart. I seriously kinda wish I can shrink her and put her in my pocket and take her home haha. Her mom is also so adorable and sweet! I love how she's so supportive of her passion. Jackie, I wish you lived closer to me! And Ingrid, was just soo warm and friendly. I just learned about her YouTube channel that day when I met her and I'm officially hooked. Her presence on the camera and in person is just the same. No smoke and mirrors there. I was really enamored about her maturity and presence. You'll know what I mean when you watch her videos!



Christina from Beautylish. I kinda found it funny how we shared the same guilty pleasure of reading a certain forum that will remain unknown haha.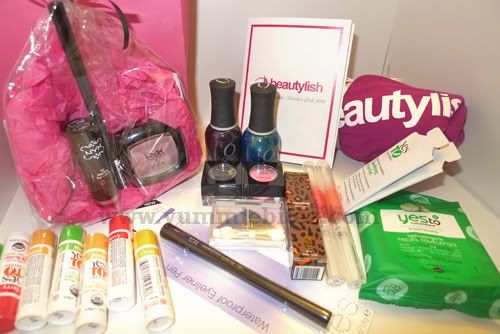 And of course my makeup goodies!
Watch the video:
I really enjoyed myself and my friend Veronica (who was my +1 for the day) as we met some YouTube gurus (mostly) and other bloggers who has the passion for beauty! I didn't know what to expect when I first walked in, and I'm not going to lie, but I was actually pretty nervous. But after getting settled (and it didn't hurt that I had a bubbly in the beginning), I got pretty comfortable and just started talking to anyone who was next to me >.< although I didn't have to worry since everyone was so nice and friendly!
Thank you again
Beautylish
team for having this event. If it weren't for this event I probably wouldn't have met these lovely girls! Looking forward to future events to come!