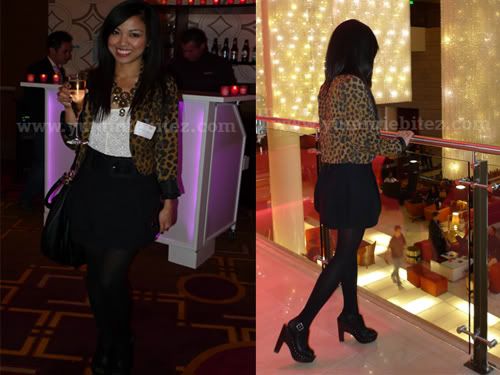 Leopard print blazer, pleated A-line skirt, H&M necklace, lace tank, vintage; Forever 21; Jezebel Clogs, Dolce Vita
Watch the Video:
Here's an outfit that I wore to the Beautylish event this past Saturday. I even made an OOTD video :). Two things I'm loving right now, my leopard blazer and my clogs. The first moment I've laid my eyes on the leopard blazer was when Pam did her clothing haul video. At first I thought that the blazer was too crazy for my style, but for some reason the moment I saw it in store and tried it on, I thought to myself that maybe it can work out. And it did, and now I'm in love with this blazer!! Second, my clogs are my favorite shoes at the moment. I love everything about it... the wooden heels, the studs *sigh*.
And also, how awesome is my mom for having this tank top still? I went back home last week to visit them and she pulled out this tank and I told her I was going to take it! And now I'm putting it to good use as she hasn't worn this in years. Thanks mom!
Anyway, I'll have have a separate post on the Beautylish event as soon as my YouTube video finishes uploading. For this whole week, I think I'm going to be wrapped up on working on my costume for Halloween. I'm not sure what I was thinking when I've decided on this costume, but I wanted to make my costume so it's guaranteed that I'm not going to be matching with anyone. Oh well, I've already started it. I just hope I finish it in time. I'm just glad that mommy dearest is helping me with it as I don't know how to sew for the life of me. I'll tweet some progress, but I'll make the whole reveal on Friday when it's finally time to dress up!