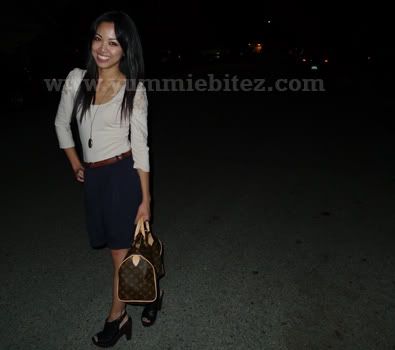 H&M laced 3/4 sleeve, shorts, and necklace; Dolce Vita Jezebel clogs, Vintage belt, F21 ring
There's always that one piece of clothing that you bought, but you don't know exactly when or how you're going to wear it, but you bought it anyway. May it be the color or how it looks, you just bought it because you have that instinct you'll wear it one day.
When I went to Boston back in May, I found these blue shorts which I've always referred to as bubble shorts because they look like bubble shorts. Duh. I bought the pair at H&M and it was the last size. My size. I took it upon myself that it was a sign for me to have it even though I really had no idea when or how I'll wear it.
They're really light and flowy, and a pain to iron. But I was attracted to them enough that I'll put up with it. There were something about them that made me buy it. It's probably because I don't have a pair of shorts like these. Why not.
Fast forward to five months later and these shorts finally saw daylight... or at least made it out of my closet. I wore these babies to an engagement party I had to attend to this past weekend and I paired them with a 3/4 laced sleeve from H&M (they were on sale for $4.95 for a day... how can you not get one? I don't know why I didn't get another one in a different color). I guess I can wear this for work too. But I don't know, I'm too comfortable dressing like a bum to work.
I'm going to start posting my weekend outfits when I get the chance. I mean it's the only time I make an effort to look presentable anyway. It actually motivates me to dress a little better too.