Out of the four seasons, I'd have to say fall is my favorite. One, because my birthday is around fall. Two, fall has the perfect weather in LA (although I wouldn't say the weather was perfect today in LA as we hit another triple digit weather) . And three, you get to wear your scarves and coats without being too cold or too hot. Not to mention the nail polishes in style are prettier.
One set that I was really impressed on that I recently picked up is the Essie Fall Collection mini series. On my recent trip for nail polish shopping, this is probably the set you'll need for the season. It has your staple red, purple and green with a grey base, and your chocolate brown.
I always find the nail polish sets a smarter buy for the obvious reasons: you're able to sample multiple colors; less products go to waste (when was the last time you've used up all your nail polish before it dried out?); and they're more cost effective. It's enough for you to test out a color to find out whether you love it or not. When you do, buy a full back up bottle! Since these are limited editions, they might be difficult to come by again. And well if you hate it, the pain isn't as bad as buying a full size polish and being stuck with it.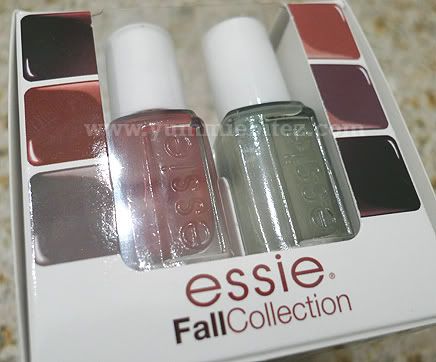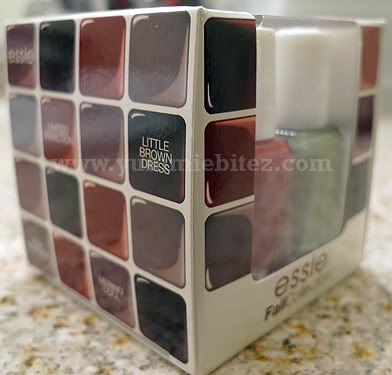 Size compared to a regular Essie nail polish.
Each mini bottle is about 0.16 oz while your regular Essie nail polish is about 0.5 oz. So just mathematically speaking, you get a little over the amount of the regular size with the four mini bottles combined (0.16 x 4 = 0.64). But how cute does the small one look?
Size comparison to an OPI mini nail polish.
OPI bottles are about 0.12 oz each. OPIs are definitely smaller in size. Perfect for those who are really afraid of commitment when it comes to nail polish. I've had the bottle in the picture for about two years now. And I'm barely finished with it. I mean with other nail polishes I have, it's just difficult to go through them all.
But I still find that the Essie mini nail polish is a perfect size that it will last you awhile yet it's not that small that makes you wonder if it'll be enough for your finger nails and toe nails.
For this collection, there are actually two more shades not included in mini pack.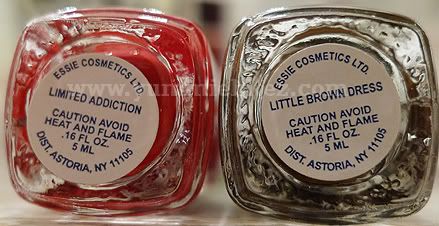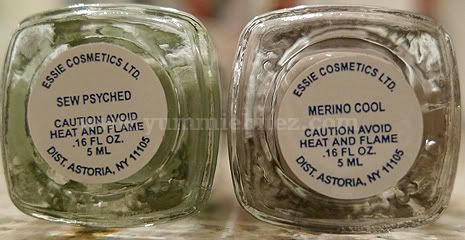 On to the swatches!
Limited Addiction:
Your classic red nail polish. When it comes to the color of your nails, red will never go out of style. Limited Addiction is your basic nail polish that you can always reach for when you're not feeling adventurous with your nails.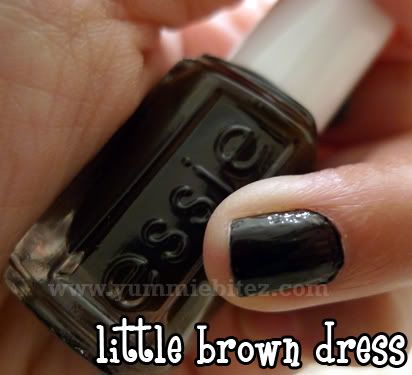 Little Brown Dress:
A deep chocolate brown color. This polish came a surprise to me. I didn't know how I felt about brown nail polish until I swatched this. I always thought that brown made my nails look old, but this has definitely changed my mind. This is a really dark brown color that it's almost black yet it's a perfect dark color for fall. It's a great alternative to your gothic black polish for this season.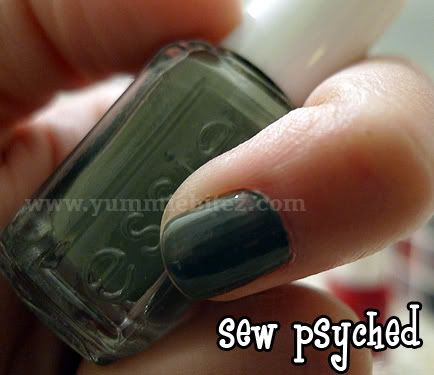 Sew Psyched:
Just as the name implies, I was pretty psyched about this color. It's a nice green with a hint of gray. It's a nice sage color if you want to play up your nails a bit. I've always thought green was a tough nail color for me to pull off since it gives me that leprechaun feeling no matter what shade of green it is. But this green is a winner to me. It's also a very work friendly color.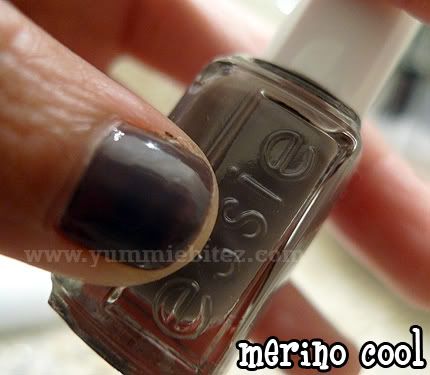 Merino Cool:
I love this color. This has to be my favorite out of the four. It's a grey nail polish with a tinge of purple. Not quite your grey nail polish and not your purple either. I love it because it's almost two colors in one. In a well-lit or daylight, this nail polish will show more of its purple side while in low light it almost looks greyish taupe. Sometimes I'd think it's OPI You Don't Know Jacques at night.
Although the formula of these nail polishes were a bit thick and goopy, I'd put up with it just because of how perfect these colors are for fall or for the corporate world for that matter. It has that grown up appeal with a bit of an edge to it. These are definitely winners in my book.
FTC: Items on this post were purchased by me. I am not affiliated with the company nor paid to write this post. These are my honest opinions.