It can be a pain sometimes trying to decide whether a nail polish suits you. When you're shopping for nail polishes, you really only have ten fingernails where you can swatch a kajillion nail polishes on your hands just to see if you can see yourself wearing it ever.
So thank goodness for beauty blogs that provides swatches and recommendations from beauty blogger babes (thank you Jill), that nail polish shopping can be a breeze.
This particular nail polish has been getting a lot of buzz on the blogger realm. I mean I don't see why not because this nail polish is gorgeous.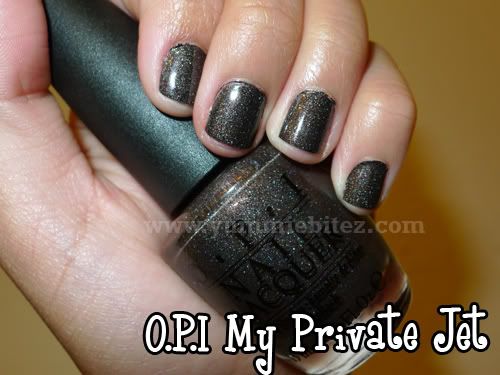 Nail polish with glitter can sometimes be tricky. Just as a personal preference, I really don't dig chunky or decorative glitter on my nails (except for China Glaze Ruby Pumps). It can come out as a little teeny bopper-ish sometimes, and you just don't want to be rocking that if you want to be taken seriously in the corporate world. You don't want your fingers to look like you've been playing with craft glitter the whole day.
O.P.I My Private Jet
has plenty of glitter... but in a good way. My Private Jet has micro-glitters that it's not blinding or tacky in the daylight. If anything it adds that extra oomph to it. It's your vampy nail polish with a little spin to it.
In low lighting, your nails almost look like they're granite-looking. It's still
"so pritty"
.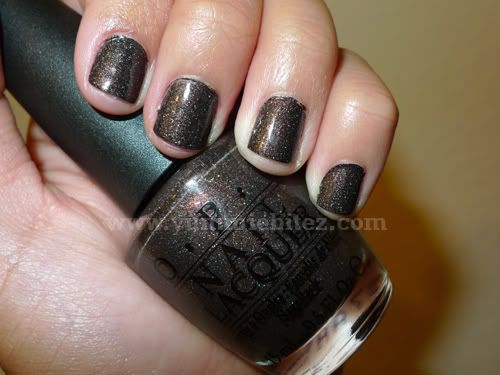 In certain lighting and angles, you can kinda see some reddish brown undertones but sometimes it look as it's a gunmetal grey nail polish.
The formula for this nail polish is pretty good. One coat gave me an almost opaque color, and the second coat pretty much sealed the deal for me. Top it off with a clear top coat, and your nails are money.
I think I couldn't have picked a better color for this weekend's festivities :).
FTC: I was not paid nor sponsored to write this post and the product mentioned was purchased by me. These are my honest opinions.