Product Blurb:
"For lavishly long, perfectly defined lashes, this best-selling Lancôme Définicils mascara provides the ultimate in shaping and separation. Patented brush coats each lash, from base to tip, for superb definition. Ophthalmologist-tested. Fragrance-Free. Suitable for contact lens wearers."
description via sephora.com
Price:
$24.50 (buy it at
Sephora
.com
)
Bare naked lashes (curled)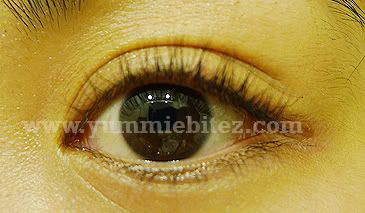 With Lancome Definicils Mascara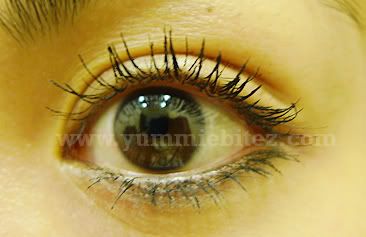 Why you'll dig it:
Lengthens lashes
Holds curl
Evenly coats lashes
Doesn't stiffen lashes
Doesn't clump
Great for lower lashes
Why you might brush it off:
High price point
Doesn't volumize
The Nitty Gritty...
If there is one makeup item that can make a difference in the world for me, it would be mascara. It is almost a night and day difference when I have it on. Sometimes good mascara can brighten up your eyes with so little effort. I really can say it is a magic wand for me. A little coat on and I can turn my tired looking face to a little brighter and lively look without spending 30 minutes in front of the mirror.
For someone working full-time and having an early start in the day, it's always a gruesome battle deciding whether you should sleep in a little longer or spend those same minutes putting a face on. The former is usually the case for me.
Call me lazy but sometimes sleep is more important to me. Although lately I've been picking up my
Lancome Definicils mascara
sample that I previously got from a gift with purchase as a pick me up when I want to look more alive at work… and sometimes it's the only thing I need.
It is
almost
everything that I look for in a tube of mascara. It lengthens my lashes to great lengths without having the false looking lashes. Think of being blessed with long lashes but a little bit enhanced. And since this mascara evenly coats your lashes, it does not clump or stiffen your lashes (no spider legs looking lashes here). I do hate mascaras that harden your lashes that will seem breakable if you touch it. This mascara works with what you have. Sometimes it's a little bit unbelievable that I have that much lashes on my eyes.
The wand is very easy to work with since it's on the thinner side which makes it great for your lower lashline. The mascara wand has your traditional bristle which I prefer since they seem to coat my lashes better (hence the less clumping). Because of the slenderness of the wand, it can easy reach the corners of your eye without making a big mess in application.
But as I mentioned earlier, it's
almost
everything I look for in a mascara. Definicils lacks in the volume department. If I am going for a night out, I do like my lashes a little fuller for that drama. Sometimes I'd like to skip out on the false lashes since they're painstakingly annoying to put when you're in a hurry. I wouldn't reach out for this mascara if I want volume. However, this is definitely a win in my book as part of my everyday look.
What about the price? It's a bit steep price point for a tube of mascara. For $24.50 that will be thrown out in three months, I'm not too sure. Money is tough right now, but I guess it just depends on how much you value good looking lashes and if you're willing to splurge. If I have money to lavishly spend… I'll probably by this in the bulk. But for now, I'll be using up my Definicils samples that I've accumulated through numerous gift of purchases.
Overall Rating:
4 out of 5
FTC: The product mentioned on this post was purchased was from a previous gift with purchase. I am not sponsored or affiliated with the brand company. I am not paid to write this review and these are my honest thoughts about the product. In order to support this blog, this post contains Sephora affiliate links of the mentioned product.