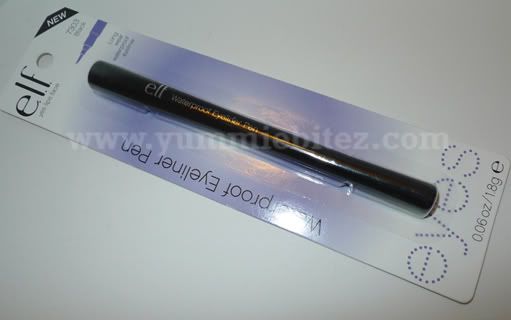 e.l.f Waterproof Eyeliner Pen
From the most recent event that I attended, hosted by Beautylish, they were handing out all sorts of makeup swag for us to try. One of them happens to be this e.l.f Waterproof eyeliner. I was actually interested in trying this out since I was on a hunt for a good inexpensive eyeliner. For a dollar, you can't get anymore inexpensive than that.
I haven't had the chance to try any e.l.f products up until now. I've always been a bit wary due to the negative feedback I've been reading or hearing about their brand. Regardless of what I knew or heard, I kept an open mind that maybe this one will work out for me.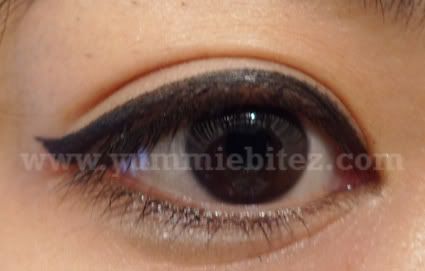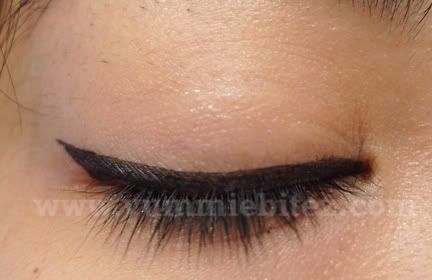 Day one of my trial run, the bf and I planned on a trip to a flea market in LA on a Sunday afternoon. It was a bit of a gloomy day, but the weather was pretty warm, around the mid-70s, and it was perfect. I didn't want to put too much effort in getting ready that day, so I just lined my eyes using e.l.f Waterproof eyeliner pen and put some mascara on.
Because the eyeliner was in a pen form with a felt tip application, lining my lashes with liquid eyeliner was a cinch. I was pretty impressed on how precise the eyeliner pen lined my eyes. It was easy to control how thin or thick you want your line to be. I also didn't have to go back and draw the line again. I did it all in one swipe. I just achieved a cat-eye look in less than 2-minutes. Not bad.
I also swatched the eyeliner on the back of my hand. I tried rubbing it off, and it barely budged. At this point, I was pretty excited already. But little did I know at the time, its staying power would not be applicable on my lids.
After being out and about for maybe two hours, driving, looking for parking, and walking around perusing the local flea market, my bf taps my shoulder and says, "Umm... you might want to check your makeup." I look at him and thought he was crazy since I barely had anything on my face. I checked the mirror anyway. And to my horror, my eyeliner has crept up to my crease!! The line has faded and went north. It was a mess. I almost felt embarrassed since I've probably been walking around like that for awhile. Well, I guess the staying power of that was a fail. For the rest of the day, I found myself trying to clean off mess that my oily lids have created. Not to mention, my eyelids were getting a little itchy. It wasn't stinging, but it was itchy. It wasn't anything unbearable, but it was still itchy.
Day two of my trial run, this time I primed my eyelids with Urban Decay Primer Potion. The eyeliner still creased but it lasted a few more hours longer compared to sans primer. I still found myself checking the mirror and trying to clean up my eyeliner.
As far as removing the eyeliner, it really is waterproof. Although it created all sorts of mess on my eyelids, taking off the rest of the eyeliner will budge with water not unless you use a good makeup remover.
Overall:
This eyeliner just didn't cut it for me on warmer days when my eyelids decided to secrete more oil than ever. I probably would only recommend this to people with non-oily lids (as the swatch on the back of my hand didn't really budge) who are looking for an inexpensive liquid eyeliner. This might also be a great practice tool if you want to transition into using liquid eyeliner. Although keep in mind, that it did make my eyelids itch a little. I'd probably only just use this again if ever I need black eyeliner to draw something on my face.
Watch the Video:
Rating: 2.5 out of 5
FTC: The product mentioned was a gift from a previous beauty event that I attended. I am not affiliated or sponsored by the brand company mentioned to write this review. These are my honest thoughts.