For awhile now, I've been trying to figure out how I'm going to squeeze-in pursuing makeup freelancing on the side. After I got my degree, I thought I'd have all these time in the world to go after what I truly love to do. You know when you were in college, you think you'd have all these time in the world for hobbies and just to relax after you've graduated.
Well, not the case. Your priorities actually shift. You start to realize that you actually had more time when you were in school. You have to work full-time to support yourself. It's even more of a challenge when you move out from home. Yes, you do have independence and the freedom, but it comes with a price of having to do everything for yourself.
To save you guys the long, boring details, I won't be able to attend makeup school like I hoped for... at least not for awhile. Although I'm truly grateful for what I have, my dream after college was to be able to do what I truly love. So for now, I'm just going to teach myself and practice, just like everyone else, and resort to watching makeup tutorials on YouTube. And in the process, I'm going to try and document it by uploading my own videos more frequently. We all have to start somewhere.
Anyway, I was reading
Stephie
's blog and I've seen that she entered a contest in being hosted by Physicians Formula. It's a long shot, but I told myself I have to at least try doing contests once in awhile just because it'll be good practice for me.

Click on the banner if you want to vote for me! (end shameless plug lol)
Here's a purple look that I did for the Physicians Formula contest. For my eyes, I only used Physicians Formula products (as pictured below).
**NOTE**
The Physicians Formula website is taking awhile to process my video, so I'm not quite sure when it'll be up. However, I did edit a version for YouTube :).
Since the palette didn't have names for the eyeshadows, I've labeled the color in the order that I used it for this video tutorial.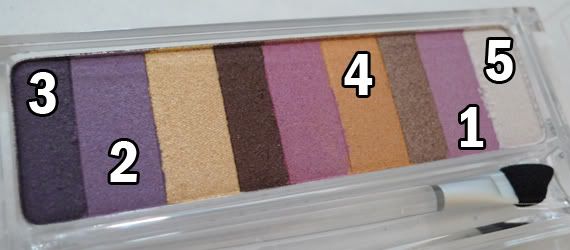 Face:
MUFE Duo Mat Foundation in 203 using a synthetic face brush. For my cheeks, I used MAC True Romantic beauty powder blush.
Eyes:
I applied the Urban Decay Primer Potion to prep my eyes and used Physicians Formula Gel Cream Liner in Purple as my base for my eyeshadow. I used the Physicians Formula Shimmer Strips Eye Palette for my eyeshadows. Using a shader brush, I applied PF [1] eyeshadow (lilac eyeshadow) on top of the base applying it all over my lids. Then, with a pencil brush, I took [2] eyeshadow (purple eyeshadow) on my outer V and bringing it up to my crease. To define my outer V area, I used [3] eyeshadow (indigo eyeshadow) with a pencil brush and then bringing up the color up to my crease. I blended the [4] eyeshadow (dark gold eyeshadow) just above my crease color to lightly blend the harsh lines. I highlighted my brow area with [5] eyeshadow (shimmery white eyeshadow) to brighten up my eye area. I lined my lash line and half of my lower lash line with Physicians Formula Gel Cream Liner in black. On the lower half of my lash line, I used PF [1] eyeshadow (lilac eyeshadow) with a shader brush. Curl lashes, and finish of your eye makeup with mascara. I used Physicians Formula Plump Potion.
Lips:
Dior Cat Mauve lipstick.
For more photos of the finished look and the video tutorial, click after the jump!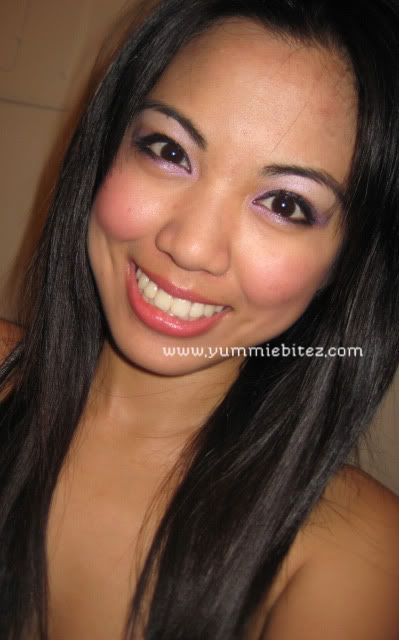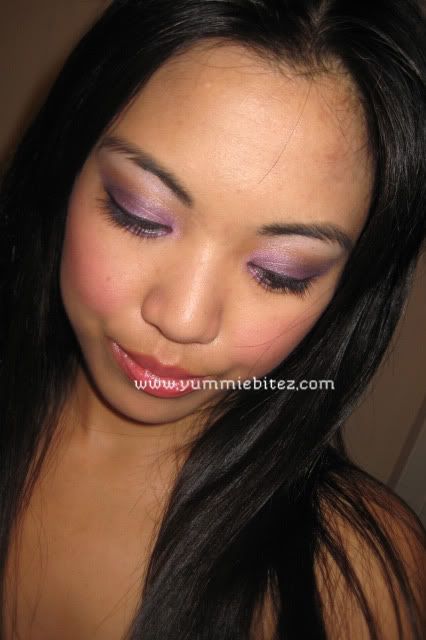 I hope you guys enjoyed this tutorial! if you have any suggestion for a look, leave it on my comment section or send me an email.
FTC: The products featured on this post were all purchased by me. I'm not affiliated with the company or being paid to write this post or make the video.