During my most recent haul post/video to CVS, I randomly picked up this Rimmel London nail polish. I've been loving neutral colors lately and this bottle has definitely struck my interest.
Rimmel London Lasting Nail Polish in Steel Grey
Product Blurb:
Professional polished perfection for flawless up to ten-day colour and shine. Enriched with micro-sized minerals that fill in imperfections on the nail surface, Lasting Finish Pro Nail Enamel creates a smooth and super glossy finish for up to 10 days of maximum colour impact and shine. Advanced micro formula technology with active time-released system enhances shine over time. It captures and reflects light for colour that shines with dimension. UV fade protection keeps colour true. The formula is ultra flexible and long wearing with superior shock absorption and chip resistance. The Mistake-Free Pro brush features a wide angled brush for a fast and mistake-free professional application. With more than 800 fine textured bristles, the brush is designed to adapt to any nail shape and require less strokes to apply, while delivering a super smooth finish and truly streak-free results. (
via Rimmel London US
)
Price:
$4.89
(get a $2 off coupon for a limited time when you like Rimmel London US on Facebook)
Available at:
Major U.S. drugstore chains
Read the review and view more product images by clicking on the link below...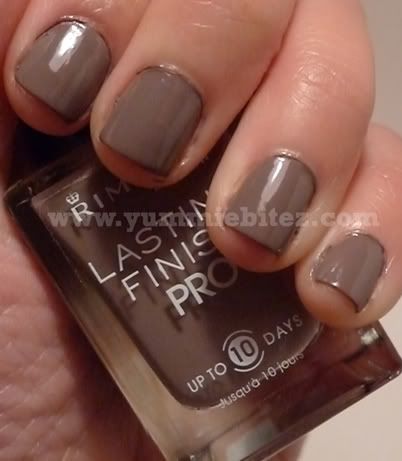 No Flash
Swatches:
Rimmel London's Steel Grey (270) can be described as a grey base nail polish with a slight purple tinge to it. The purple tinge is more visible during the daylight or when it photographs using flash. However, in low-light settings, the nail polish can almost appear like a taupey grey color. And this particular shade makes a great fall or winter color.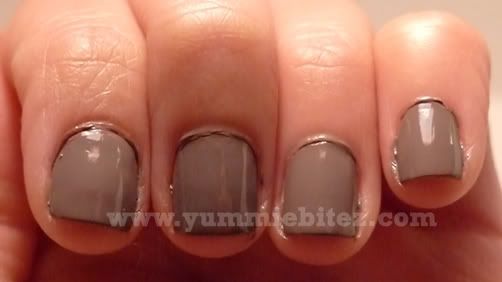 No Flash
With Flash
What I really like about this nail polish is the brush. I'm not exactly an expert in nail polish application nor am I ambidextrous. So, when it comes to painting my right hand, it starts to become all sorts of mess since my left hand is not my dominant hand. But with Rimmel's Lasting Nail Polish wand, application was a cinch. It almost didn't require me to clean up the sides of my nails or my nailbed. And that is pretty rare! I'm not one to color inside my nails usually, but the shape and the stiffness of the brush really made it easy for me to apply the nail polish. The brush is flat and slightly stiff with a curbed end which helps control your application especially for people with the not-so-steady-hands.
The nail polish has a creamy finish and it wasn't streaky or goopy when you apply it on your nails. Even with one coat, it gave me a semi-opaque coat, but two coats seals the deal. Also, the nail polish dried up fairly quickly even without a fast-drying top coat which is a plus for me since I'm one of those impatient people who can't stand waiting for nail polish to dry.
As far as it's lasting power, sadly, this polish will not last you up to 10 days as it claims. In order to test this, I applied the nail polish without any base or top coat. If you look to the image down below, my manicure has been pretty beat up badly. It's pretty embarrassing that I've even allowed my nail polish to look like this. I'm usually on the computer for the most part when I'm at work as well as when I go home to blog. So my nails are always in contact with the keyboard as the chipping shows on the tip of my fingers. I started to notice minor chipping around day three or four.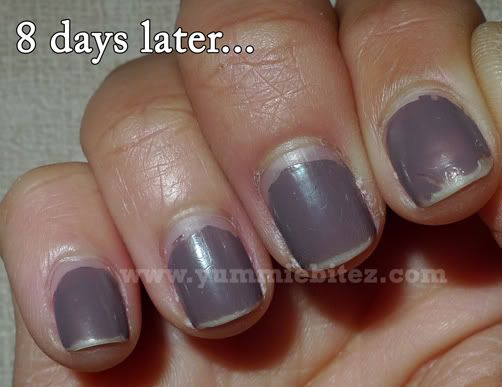 I was hoping that the nail polish would have lasted 10 days because then it will make the perfect nail polish for me. But, this nail polish is still pretty good for it's value especially with the stiff, flat, and rounded brush that it uses. And the staying power can easily be fixed by applying a top nail coat to make it last longer.
And I also noticed that this particular shade looks similar to what I already have. So I dig through my small nail polish collection, and what do you know, it's a good dupe for
Essie's Merino Cool from the Fall 2010 Collection
. The only difference that I noticed when I was comparing them was that Essie's formula was thicker than Rimmel's. Other than that it's a good match.
So if you missed out on that collection from Essie, at least you know there is still hope and there's a dupe that's available at your nearest drugstore.
Rimmel London Lasting Nail Polish in Steel Grey vs. Essie Nail Polish in Merino Cool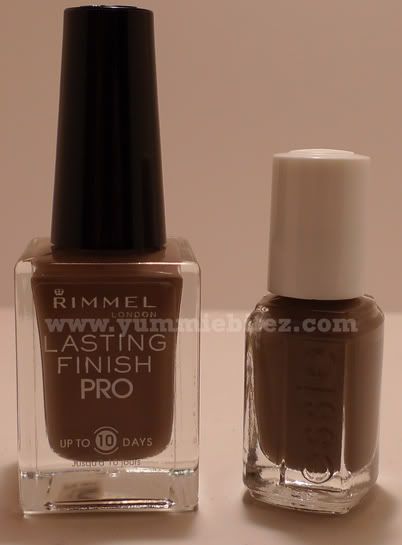 No Flash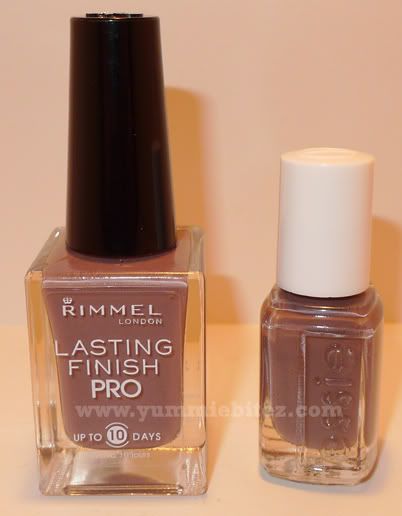 With Flash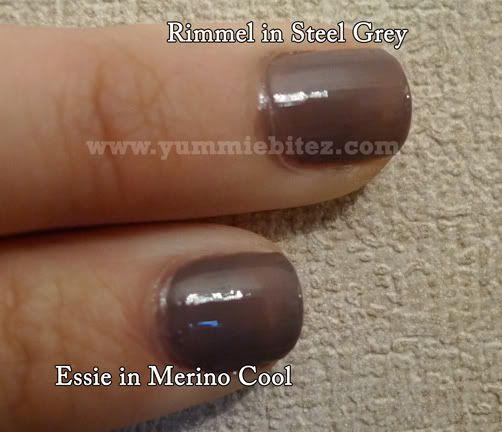 No Flash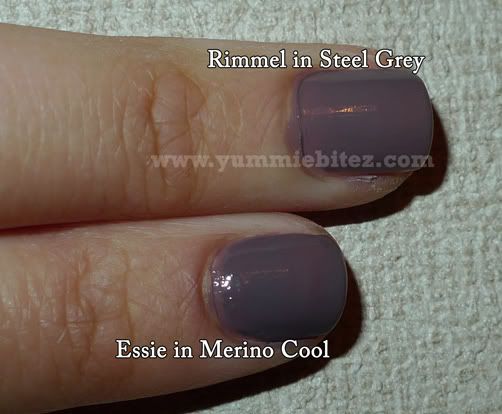 With Flash
Overall Rating:
4 out of 5
FTC: The product featured on this post was purchase with my own money. I am not affiliated or sponsored by the brand company. Views expressed on this post are my own and honest opinions.