Been super busy since I got back from San Francisco especially since I'm catching up on some work I missed on Friday after taking the day off. My posts will most likely consist of outfit of the day posts since I've already taken plenty of pictures to post over the weekend.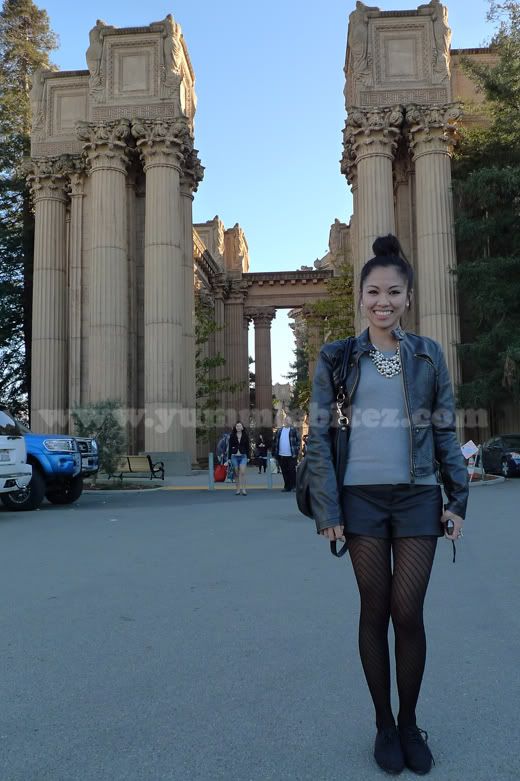 This looks like a picture you'd take back in elementary.
This was me pretty much the whole time trying to fix my tights.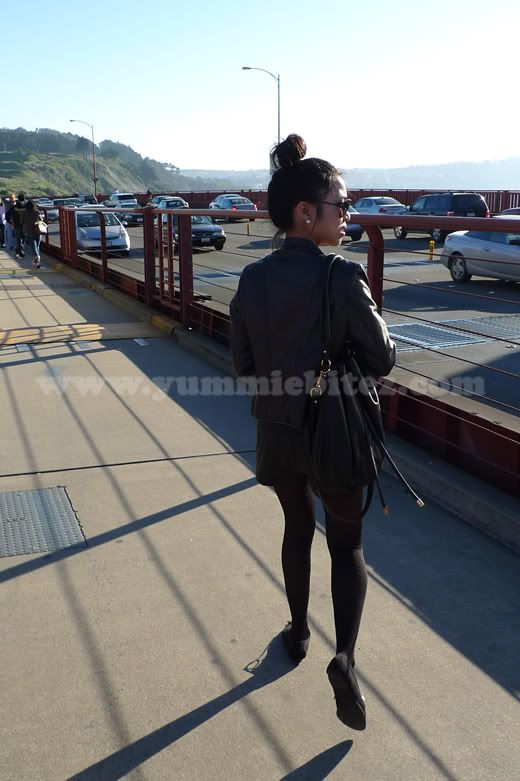 Ruffled top, H&M
Faux leather shorts, Forever 21 (buy similar
here
)
V-stripped tights, Forever 21
Clustered pearl necklace, Forever 21 (buy similar
here
)
Faux leather biker jacket, Forever 21 (buy
here
)
Faux fur, H&M (buy similar
here
)
Belt, Betsey Johnson
Suede Oxford shoes, Forever 21
Bucket bag, H&M (buy similar
here
)
Sunglasses, Fendi
Posting outfit related entries is actually helping my closet inventory. It gives me a mental note of what I'm going to possibly keep and which ones will be given away. I'll need to start purging my closet out since my mom has told me that she's going to be sending stuff to the Philippines. That means she's going to be packing that "Balikbayan" box. If you're Filipino, you know what it means to send box of goodies every year to your family who are in the Philippines. It can get pretty hectic shopping (whether it'd be food, shoes, or clothing) for your loved ones and carefully packing them in a box to be sent off. Amongst other things, we usually send our clothes that we probably don't wear anymore. I have cousins who are younger than me who usually end up with my stash.
Anyway, I should try shopping somewhere else other than Forever 21 or H&M. But I can't help it since they pretty much have everything I usually want, not to mention they're really affordable to.
Watch Video:
FTC: All clothing items were purchased with my own funds.