Since I've been going to the gym after work, I've been always too tired or too sore to do anything afterwards. I'm thinking of going in early, but they don't have the classes I want at 5 in the morning and I don't think it's humanly possible for me to wake up THAT early either. I don't know how I did it back when I was in college. But that's the reason why I didn't get to post this one up yesterday.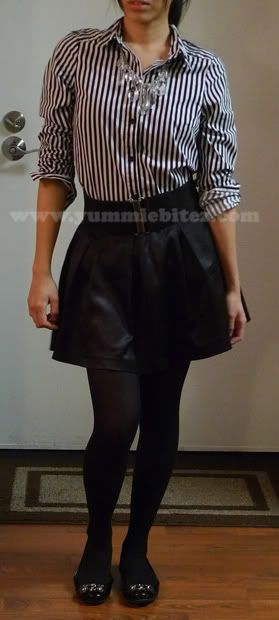 Striped button down, H&M (buy similar
here
)
A-line pleated silk skirt, Forever 21 (buy similar
here
)
Necklace, Forever 21 (buy similar
here
)
Black tights, H&M
Jewel crusted patent flats, Sam Edelman (buy similar
here
)
Yesterday's outfit is a little too "Gossip Girl", I think. By the way, I finally got a hold of a tripod. Yay! Now I can try to do outfit posts without using my iPhone to take pictures. I don't know, do you think is this better or stick with the iPhone shots?
I wanted to wear my silk skirt yesterday. It actually worked out because it was pretty warm again yesterday. My only gripe about this skirt is it's a pain to iron and wrinkles easily. Not to mention, my belt kept sliding up.
Oh, and did I tell you how much I love my
Sam Edelman flats
? They've completely replaced my beat up flats forever. Even though they're half a size bigger, they actually fit me perfectly because they're narrow shoes. They're super comfortable too since they're a little padded on the bottom. I haven't gotten blisters on my feet either despite the shoes being made out of patent leather.
FTC: All items on this post were purchased with my own funds.