Not going to lie, but I've worn the same ensemble before. But you guys haven't seen it so it only counts as once.
I didn't get to take proper pictures that day, so I had to steal these screen shots from my friend
Jarmaine
's YouTube video. I'm glad she did an outfit of the day of me so at least you're able to see my somewhat favorite outfit (it must be if I have worn it twice already).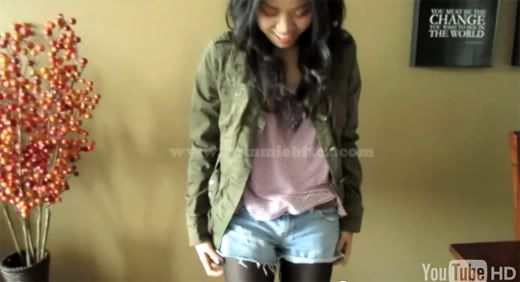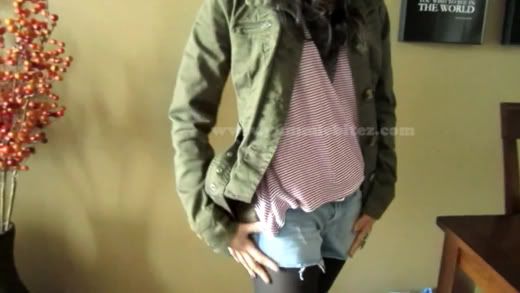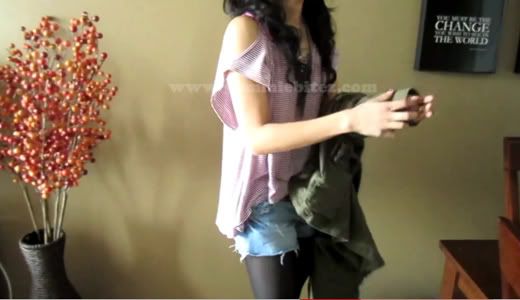 Miltary-inspired jacket, H&M (buy similar
here
)
Striped top, Cotton On (buy similar
here
)
Destroyed jean shorts, Hollister (buy similar
here
)
Black tights, Forever 21
Grey socks, H&M
Studded Military combat boots, Forever 21 (buy similar
here
or
here
)
Most of the items I'm wearing here were purchased a year or two ago. The only most recent purchase I'd say are probably the combat boots, but I found similar items online. My style on the weekends and weekdays are almost night and day sometimes. Thank goodness for the weekend because I can wear my favorite combat boots. Anyway, it's really not fair how I'm posting almost summer outfits.
FTC: All items on this post were purchased with my own funds.